Jerry F. Cox, DDS
Dr. Jerry Cox graduated from the University of Missouri at Columbia. He graduated from the University of Missouri School of Dentistry in Kansas City. Dr. Jerry Cox continued his education with hundreds of hours of advanced courses. He believes that for his patients, education must continue as procedures and technologies constantly evolve. He practiced pediatric dentistry for the Missouri Public Health Department for three years. He is a member of the American Dental Association, Missouri Dental Association, and Springfield Dental Society.
Dr. Jerry Cox has continued his education with training in the latest technology. Advanced Digital and 3D technology allow for one day crowns and bridges and guided implant surgeries. These high tech services allow cosmetic makeovers in just one day. CEREC digital technology creates the most accurately fitting crowns with life-like ceramics. Additional training in orthodontics allow him to provide orthodontic treatment, including functional appliances, Invisalign, and conventional braces for adults and children in his general practice. He is trained to provide Minimal Oral Sedation.
Academy member of CEREC Doctors
Member of the International association of Orthodontics
Member of the Academy of General Dentistry
Member of the International Dental Implant Association
Fellowship in the International Dental Implant Association
Member of the Springfield CEREC Study Club
When not at the office he enjoys spending time with his family, outdoors on his farm, fishing, and boating.
---
Freida Office Manager
Freida has been a member of the Advanced Dental team as the Office Manager since 2000. She graduated from Lebanon High School in 1987, and has since then has furthered her education with numerous computer courses and management seminars. She married her husband, James, in 1988 and together they have four children, Jamie, Chad, Cassie and Kayla, four grandsons, and three granddaughters. Her hobbies include riding motorcycles, floating, camping, and spending as much time as possible with her family and friends. Freida is a die-hard KC Chiefs fan, and during football season you will find her cheering on her team win or lose. She loves working with Dr. Cox, the team, and the patients on a daily basis.
---
Kim Financial Coordinator
Kim graduated from Lebanon High School in 1987. Kim was Class President of her business class and has taken multiple computer classes over the years. Kim joined the Advanced Dental team in 2004 and is the insurance/financial coordinator. She helps patients with their insurance and financial arrangements.
Kim married her husband Jeff in 1987 and they have two sons, Jeffrey and Christopher. She also has two puppies, Maggie and Max. Kim enjoys camping, playing darts, and spending time with her family.
---
Dana Appointment Coordinator
Dana was born and raised in Missouri and has spent most of her life here in Laclede County. She married her husband, Richard, in 1991 and they have two sons, Justin and Tyler. Dana joined the Advanced Dental team in 2005 as the appointment coordinator. In her free time she enjoys horseback riding, reading, crafting, and spending time with her family.
---
Cheryl Office Clerk
Cheryl was born and raised in St. Louis, MO. She attended St. Louis Community College and the University of MO. in Columbia. Cheryl moved to Lebanon in 1976 and has been working at Advanced Dental in the front office since 2003. She enjoys spending time with her two children and four grandchildren. Cheryl's interests include visiting art museums, antique flea markets, and traveling. Cheryl is also a huge fan of the St. Louis Cardinals and enjoys watching baseball games.
---
Shelley R.D.H. Registered Dental Hygienist
Shelley graduated from Ozarks Technical Community College with a Dental Hygiene degree in 2003. She began working for Dr. Cox shortly after and has been sharing her talent with her patients ever since. She loves to spend time with her husband Greg, their three children and two granddaughters. They enjoy camping, four wheeling, and many outdoor activities.
---
Julie R.D.H. Registered Dental Hygienist
Julie graduated in 2009 with an associates degree in Applied Science and Dental Hygiene from the University of Missouri Southern State. Since then Julie has been using her talents at Advanced Dental where she was previously a dental assistant before going on to Hygiene School. Julie enjoys educating her patients on dental hygiene and helping them improve their quality of health and well being through routine exams and cleanings. In her free time Julie enjoys camping, riding motorcycles, and horseback riding with her wonderful husband Blair, their two children, and granddaughter.
---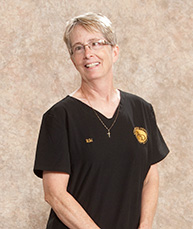 Riki Hygiene Coordinator
Riki has been working as our Hygiene Coordinator since the opening of Advanced Dental in 2000. She has two daughters and three grandchildren. Her and her husband have a farm and enjoy spending time together with their many horses. Riki says the best part of her job is seeing and visiting with the patients each time they return for their recall appointments.
---
Dana Dental Assistant
Dana graduated from Lebanon in 1980. After graduation, she moved to K.C. and went to work as a Dental Assistant for the State of MO, working with physically and mentally handicapped children for four years. In 1984 she moved back to Lebanon and continued her career as a Dental Assistant. In 2002 Dana joined Advanced Dental and received her Expanded Function Certification. Since then she has also completed her training in Orthodontics and CEREC in-house crowns. Dana is married, and has two adult children, and is currently helping to raise her grandson. She enjoys the changing seasons of the Ozarks and loves spending time outdoors.
---
Cory Dental Assistant
Cory graduated from LHS in 1990, started dental assisting in 1992 and became an Expanded Functions Dental Assistant in 1999. In 2000, she joined our team and found her work family. She enjoys catching up with her patients as well as getting to know the new patients in our office. She loves helping put smiles on our patients' faces. Helping is in her nature and when she is not at work her favorite pastimes are spending time with her family, reading on her Kindle, watching football, and taking short trips around the area.
---
Kendra Dental Assistant
Kendra graduated from Conway High School in 2004. She joined our team at Advanced Dental after completing the Dental Assisting program at Vatterott College in 2011. Kendra is a welcomed addition to our team and loves to learn new technology in dentistry. Kendra has excelled at her favorite procedure, in-house CEREC restorations for anterior teeth. She loves to see patients so excited about their new smile. When she's not busy at the office, you will find her involved with her children and spending time with her family and friends.
---